Posted by gotthatpiff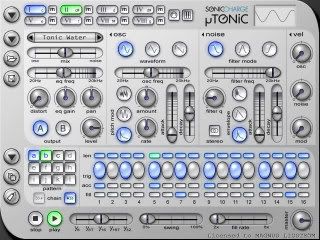 Sonic Charge µTonic (pronounced "MicroTonic") is a VST / AU plug-in for Windows and Mac featuring a unique drum and percussion synthesizer combined with a pattern based drum-machine engine.

You can use µTonic as a sound module to play drum sounds from your MIDI keyboard or sequencer, or you can use the built-in pattern engine to play drum patterns in sync with your sequencer. The sound of µTonic is 100% synthetic and rendered in real-time. No samples or pre-rendered waveforms are used.

Sonic Charge µTonic was created by Magnus Lidström. Magnus is best known for his work with Propellerhead Software. In particular, he was the brain behind the highly acclaimed Malström synthesizer introduced in Reason 2.0.