Posted by gotthatpiff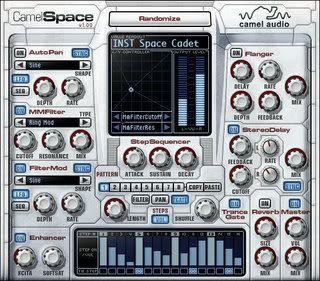 Prepare to be entranced! CamelSpace can take any sound you throw at it – be it a pad, a synth line or a drum loop – and generate a dizzying array of dynamically-evolving, gated rhythmic textures.

An enormously powerful 128-step 'trance gate' sequencer controls panning, filter cut-off and volume, while independent LFOs provide still more mind-boggling modulation options.

A tempo-synced stereo delay and powerful auto-panner ensure that your sounds are always on the move, while an enhancer (with 'Xcita' and soft saturation), a flanger and a high-quality reverb all add 'sparkle'.

A stunning graphical user interface puts all the controls at your fingertips, while the X/Y pad allows easy real-time manipulation of the most important parameters.

With the intelligent 'Randomize' button, new sounds and inspiration are just a click away. 128 attention-grabbing presets, organised by category, are also included.