Posted by gotthatpiff in Apps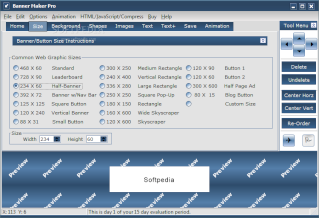 Banner Maker Pro 6 is an easy-to-use product that quickly and easily allows you to create banners, buttons, animated GIF ads, logos and other web graphics. The program lets you make changes to your creations, save them, and upload them to your web site using the built-in FTP function.
By using a wizard-like interface, this software helps the user create professional looking banners, buttons, and graphics for web pages in a short period of time.
Banner Maker Pro works with any Windows font, and creates crisp, clean, anti-aliased text. It's easy to combine your images and words into a banner of any size. The built-in image crunchers can transform bloated graphics into fast-loading images. The Power Preview feature lets you look at hundreds of combinations of backgrounds and fonts for your creations.
Also, Banner Maker Pro gives you one-click access to more than 60 different types of animation. Creating animated buttons and banners takes only a few minutes. The application even generates the HTML, banner rotator, and mouse-over code for your web site.
New features include 30 additional animations, better looking text, a library of 240 professionally designed backgrounds, a built-in character map that lets you quickly add typographical and international symbols to your artwork, and Unicode support so all international alphabet fonts may be used.
Here are some key features of "Banner Maker Pro":
* Easy to use wizard - like interface
* Creates banners in just minutes
* The ability to preview 100s of different image variations quickly
* Banners created can be any size
* Over 60 easy animation effects using One Step Animation
* Frame by Frame animation allows for many different combinations of animations
* Choose background colors, images, or gradients
* Different border styles available
* Additional images can be dropped onto the banner
* Text can be modified and customized in a variety of ways
* Images can be saved in several different formats
* Shapes can be added
* Transparent areas can be added
* Images can be animated
* Smooth, Great Looking Text
* Any image can be added
( im planning to use it too so lets see what i come up with)